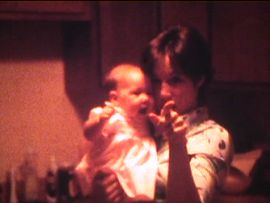 1978 Mom holding me as a baby



I wanted to write an inspirational post about God and simplicity and complexity of this journey I am on. The imperfect truth is that I feel off my path today, especially tonight.
I'm home alone (Husband is working an extra shift) and I watched a documentary on depression which I shouldn't have.
It reminded me of my struggles, but, moreso, it reminded me of my mother, how much of an advocate she was, and how much I dearly, dearly miss her.
I feel the ache so much I feel I might implode.
In my pain, I hear the whisper

O my God, I cry out by day, but you do not answer, by night, and am not silent.
Psalm 22:2
I whisper that and don't even know God comes into this pain of mine. I have felt this grief over my mother since 2006 and I have felt it without the knowledge of God's presence. I am used to feeling alone. Dealing with it alone. Living it alone.

Out of nowhere, I now hear


Blessed are those who mourn, for they will be comforted
Matthew 5:4
I look around. The tears stop. A warmth settles over me like when I drink warm liquid and can feel the warmth literally move down my throat and spread out over my body.

Oh yes, I think. That's right. I am a Christian now. I have God now. How could I have forgotten?

I rest my head against the back of the chair and look up at the ceiling. It feels different, this companionship.

Just a little while before, I was crying out in pain and anguish and grief. I was in mourning.

I was a mourning dove.

I have to remind myself that it's different now. Those 26 and a half years I lived in depression

without

the Lord (well, without me knowing Him) are over and now, 4 months ago, I found a new way to live, survive, even thrive.

God's in the mix now. That's how things are different.

I await the day when God becomes my new norm.

Bless you.