I remember when I stumbled in the wind
You heard my cry to You
and raised me up again

my strength is almost gone
how can I carry on
if I can't find You

and as the thunder rolls
I barely hear You whisper
through the rain
"I'm with you"

and as Your mercy falls

I raise my hands and praise

the God who gives and takes away
-- "Praise You in This Storm," Casting Crowns


At church
,
a few days ago, I watched this video that Pastor showed us:
(the only version I could find online had Spanish subtitles, my apologies, except to my Spanish readers:) )
I hope you can watch the whole thing. It's about 10 minutes long. It had a profound effect on me.
So now, with two references to rain, let me tell you how it rained on me today.
It was the first day after a big blizzard; I dropped off all three kids at their respective schools/day care. The sun was out, the streets slick. I drove on a busy city street and was too close to the car in front of me. I pressed my breaks to back up as he was coming to a stop, but I rear-ended him. The front of my car was pretty smashed-in. I was grateful that
a. the kids weren't in the car
and
b. no one was hurt
but in terms of being grateful for other things, I was less than peppy. The situation went deeper and how, I won't get into, but there were consequences that could hurt us immeasurably. I cried and cried in the car. Both the other driver and the policeman were kind to me in a matter-of-fact way. I just crumbled into my own ball of fear, anger, and self-pity.
I called out to God: "how could you let this happen? Just this morning I looked at our checking account and we were in the black still with bills to pay. Why, God?"
I felt it raining hard on me. The kind of rain that the lyrics in the Casting Crowns song talks about and the kind of rain that is talked about in the video by NOOMA.
I felt angry at God. We had such a great couple of days - we received anonymous help during the blizzard with snowblowing our driveway and a neighbor brought over cookies...we were just reaching out to people and helping them unselfishly, not expecting anything, and receiving so much back.
But here I was, the next day, in a pretty bad car accident, having just put us further and further into debt. We've been praying about so many things: money being at the top of the list.
How do You want us to spend our money, Lord? We can't take that step out on a limb and tithe yet, as You say we should do in Scripture, but we want to give back to You and our church - to do that we need to have our debt under control.
And now...I had just caused us a lot of trouble. Yes, I was angry at God for the first time since I came to Him this past November.
Then, that song came on the radio: "Praise You in This Storm" by Casting Crowns. One of my favorite songs. I knew the lyrics and message well. I needed to praise God even as the rain came down upon me.
So I prayed. I prayed that the financial burden wouldn't be too awful. I prayed that I would learn my lesson not to tailgate so much (and I have!) and I praised God for not having anyone hurt.
I thought of the NOOMA video and realized that He was not the God
causing
this to happen, but the God who was walking beside me, holding me - the baby - to His chest and whispering, "I love you...I love you..."
So today is Thankful Thursday on Twitter. My Christian twitter name is @DoveWhisperer. And today I am thankful for my lesson learned, for my boss and her comforting, encouraging words, to my new friend, "T," for her reassurance and fellowship, and to Husband for forgiving my cruelty I bestowed upon him due to my own embarrassment and shame of the situation.

I am thankful I am okay. I am more than okay, really. More proof that He is beside me.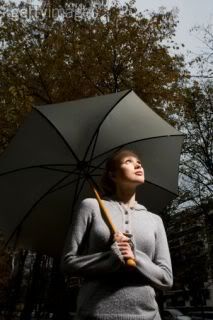 Bless you.